K-TOR founder Ken Torino will be heading to Orlando, FL later this week for the 2012 International Association of Emergency Managers (IAEM) Annual Conference and Emergency Managers Expo (EMEX).
The IAEM Annual Conference provides a forum for current trends, topics and information about the latest tools and technology in emergency management and homeland security.  Emergency managers, homeland security officials, first response coordinators, private industry risk managers, contingency planners and many more will be in attendance as this year's 60th Annual IAEM Conference & EMEX.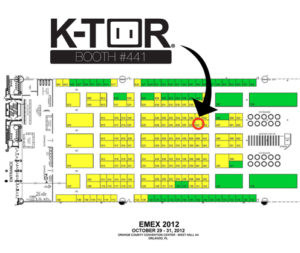 K-TOR will be exhibiting at EMEX as well as attending the conference. The K-TOR booth number is 441 and its location is identified in the picture above. This will be the first emergency preparedness expo K-TOR has exhibited at and the company is looking forward to exposing the emergency management community to their products. During the expo K-TOR will be conducting live demonstrations and at 1pm each day the company will raffle off a free Pocket  Socket at their booth.
A critical tool in emergency preparedness, K-TOR generators provide an instant source of electricity via a standard electrical interface.  In an emergency situation, access to power or electricity can be scarce or non-existent. Powering critical electronic devices such as phones, lights and radios, K-TOR generators are an essential preparedness item.
About IAEM
The International Association of Emergency Managers (IAEM) is an international organization dedicated to promoting the goals of saving lives and protecting property prior to and during emergencies and disasters. IAEM is a non-profit, educational organization established in 1952 with more than 5,500 current members. Members are local, state and federal government emergency management/homeland security professionals; private industry/security executives; military; non-profit, healthcare; volunteer disaster planners; and others.